'The Tick'
[SNES / GEN] [USA] [MAGAZINE] [1994]
GamePro, December 1994 (#65)

Scanned by Phillyman, via RetroMags
http://darth-azrael.tumblr.com/post/160626625367/vgprintads-the-tick-snes-gen-usa
The Tick was both a comic book and an animated series on Fox. I never read the comic but the the animated series was very good and extremely funny. I highly recommend it to anyone who hasn't seen it. A video game based on the comic and animated series was released in 1994 for both the Sega Genesis and Super Nintendo. It's unfortunate that it didn't live up to the quality of the animated series. It wasn't absolutely horrible, it just peaked at average.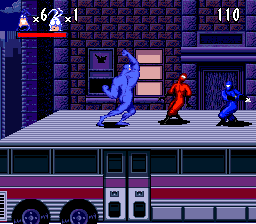 The game is a fairly typical side scrolling beat 'em up (think Streets of Rage). However, it's fairly generic, repetitive and the frame rate is not great. It also doesn't do enough to capture the humor of the series. Unfortunately, mediocre to terrible games are not uncommon when it comes to licenses. The mindset often seems to be to get a game out as fast as possible, regardless of quality, in an attempt to capitalize on popularity in another type of media.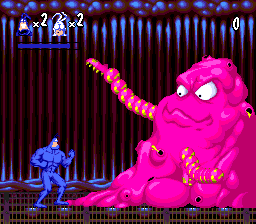 This game is probably of some interest if you were a fan of the comic or tv series but nobody else would likely care.