Enduro Racer (Sega, 1986)
http://darth-azrael.tumblr.com/post/164069934688/vgjunk-at-the-big-vgjunk-site-today-its-segas
Enduro Racer is an arcade racer by Sega that is quite similar to Sega's other arcade racers of the time including Outrun and especially Hang-On. The behind the vehicle third person view and scaling sprites will be very familiar to anyone who has played those other games.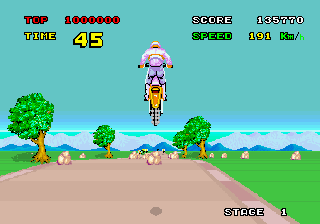 Enduro Racer is in some ways more limited and in some ways more advanced than those games. Your vehicle is a dirt bike and on one hand, you can perform wheelies and there are jumps to navigate both of which features add a little complexity to the game. On the other hand, there are no branching paths to choose like in Outrun or even multiple course selections like in Hang-On. Overall though, it is a game worth playing if you are a fan of this sort of racer.
Enduro Racer was released to arcades in 1986 and there were a few home ports as well over the next few years. In 1987 the Sega Master System version was released. In 1988 the Commodore 64 and a few other computer versions came along and in 1989 an Atari ST version was released. Finally, it was re-released for for the Wii's Virtual Console in 2008.
---