Star Wars Jedi Arena for Atari 2600
http://darth-azrael.tumblr.com/post/165059604009/8bitcentral-star-wars-jedi-arena-for-atari-2600
Here we have the very first video game to feature a light saber and also what is generally considered to be one of the worst Star Wars games of all time. Released in 1983, Jedi Arena was the second Star Wars game released for the Atari 2600 by Parker Brothers after Empire Strikes Back. Jedi Arena is based loosely on the scene in Star Wars where Luke duels with the Seeker ball aboard the Millennium Falcon.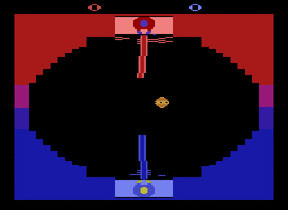 While the graphics and sound are pretty good for the time, the main criticisms come from the abstract nature of the game play and the fact that the game is based on such a limited part of the movie. The goal is to defend yourself from the Seeker while causing it to fire bolts at your opponent who can be a human or computer controlled. Some liberties were obviously taken given that there was no such duel between Jedi in the movie. The Jedi do not move around, you simply have control over where the light saber points by using the paddle controller.
While the game is pretty limited in nature and relies a lot on luck, it is also pretty unique. There seemed to be a lot more creative experimentation with video games back before everyone knew the genres games had to fit into. These experiments obviously didn't always work out as with this game but I still think it's a game worth trying. You'll have to find an original cartridge or resort to an emulator for this one. There are no modern remakes or re-releases that I know of.