1983 Kool-Aid Man Video Game
Free with ONLY 125 proof-of-purchase points!
http://darth-azrael.tumblr.com/post/163034904150/gameraboy-1983-kool-aid-man-video-game-free
Kool-Aid Man is a 1983 video game released for the Atari 2600 and Intellivison that was given away as a promotion. Drink enough Kool-Aid and you could get the game for free. As the ad above indicates, you could get the game free if you sent in 125 proof-of-purchase points. I'm not sure how much Kool-Aid that translated into but I suspect it was probably one point per packet with larger point values for larger containers. You could drink slightly less Kool-Aid (30 points) and pay $10 instead.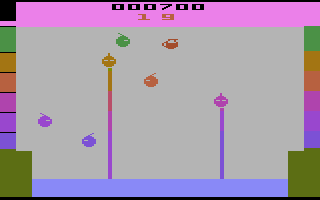 (Atari 2600)
The game itself is not so great. It is basically an advertisement for Kool-Aid and the graphics and gameplay are simplistic even by Atari 2600 and Intellivision standards. Even as a collectible it isn't that great. While originally being only available as a promotion, it was eventually released to normal video game outlets so while it is more rare than some games, it isn't exceptionally hard to come by.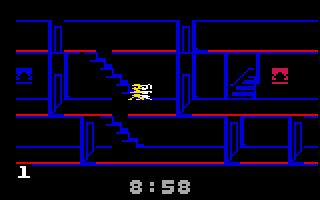 (Intellivison)
Despite having the same name, The Atari 2600 and Intellivision versions are really two completely different games. In the Atari 2600 version, you are trying to spray creatures called Thirsties with Kool-Aid when they try to drink the pool water. In the Intellivision version, you are attempting to locate Kool-Aid ingredients to create the Kool-Aid Man to devour the Thirsties that are trying to hinder your progress. While the description of the Intellivision version may sound better, it isn't. Neither version is very good but the Atari 2600 had a higher fun level or at least a lower frustration level than the Intellivision version.