Shamus was a knife-throwing robot who liked to dress like Doctor Who. Released in 1982 by Synapse Software for the Atari 800 and Commodore 64. Artwork by Tim Boxell.
http://darth-azrael.tumblr.com/post/163635577849/notablegamebox-shamus-was-a-knife-throwing-robot
Shamus was originally released by Synapse for Atari 8-bit computers in 1982. It was soon ported to the VIC-20, Commodore 64, TRS-80 Color Computer, TI-99/4A and PC (DOS). It was also re-released in cartridge format for the Atari XEGS in 1987. Much later, in 1999, a Game Boy Color port was released and eventually an iOS port as well.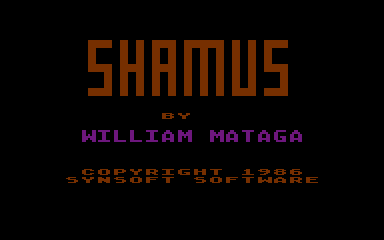 Atari title screen
The goal of the game is to navigate through different rooms fighting off various robotic enemies with your electrified throwing knives while collecting various special items and keys needed to access some locations with the goal being to reach the Shadow's Lair. This is an extremely difficult game to finish as most versions have 128 rooms and you often have to backtrack in order to use a key you've collected elsewhere. Given that some rooms have more than one exit, remembering your way around can be a challenge. Plus, there is no save feature and most versions don't even have a pause function. The VIC-20 versions is a little easier if only for the fact that it has fewer rooms…32 instead of 128. I had the Commodore 64 version and while I can't say I ever made it all that far, it was a fun game to play.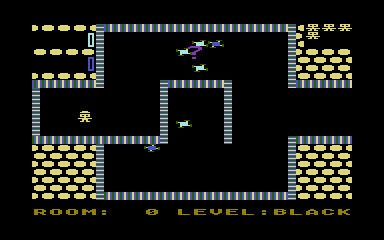 Atari screen
As far as I know, there haven't been any other re-releases or remakes other than the Game Boy Color and iOS versions. However, it is interesting to note that the same developer that created the original Atari version also did those versions as well.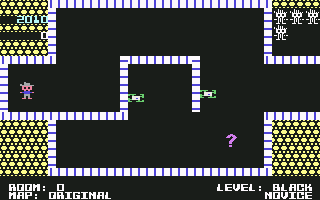 Commodore 64 screen