MicroLeague Wrestling (Micro League Multimedia Inc., 1987)
http://darth-azrael.tumblr.com/post/172780965044/suspiciousbehaviorproductions-microleague
I was never a huge professional wrestling fan but I had a couple of friends who were and I did watch a bit back in the WWF days. MicroLeague Wrestling is a great game for wrestling fans of that era. This game was originally released in 1987 for the Commodore 64 and Atari ST.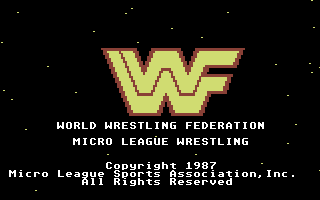 MicroLeague Wrestling is a rather unique game. It isn't really an action game as you might expect but a turn based strategy game. You get to select from a menu of moves and then the moves are played out via digital images from real matches. The original release featured Hulk Hogan vs. Randy "Macho Man" Savage and Hulk Hogan vs. "Mr. Wonderful" Paul Orndorff. Later expansions and the 1989 release for the Amiga and DOS featured different matches.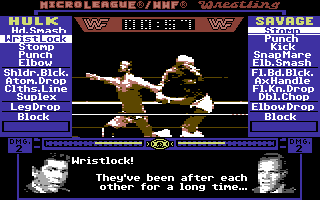 Personally, I like the turn based approach though it won't be for everyone. It's a pretty decent game but you may find replayability limited given the limited number of match-ups. I'm not aware of this game having any re-releases and it's pretty unlikely that there will be any given that there are probably licensing issues and the WWF doesn't exist anymore. You'll have to play on original hardware or use emulation. I'm most familiar with the Commodore 64 version (pictures above) but I believe all versions are pretty similar.
---
Comments
comments