The Golden Pyramid (Amiga, 1987)
Back when new computer platforms were more common, the first ads for software (and often the software itself) was were relatively cheap and non-professional looking. I suppose few companies wanted to put a lot of money into the risky investment of a new platform. The Amiga wasn't exactly new in 1987 since the first Amiga actually came out in 1987. However, 1987 was the year the Amiga 500 came out and this was the model that really brought the Amiga to the masses in terms of affordability so it was in a sense still a very new platform. There were of course a number of professional and full page color ads for Amiga software at the time but this kind of ad was more common, at least for a little while.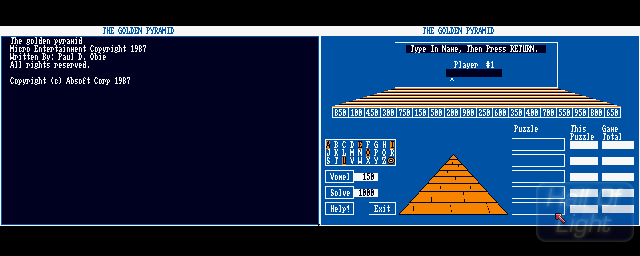 This ad for the Golden Pyramid by Micro Entertainment is a good example of ads for such new platforms. There is no artwork or screen shots, just a vague description about random puzzles and testing your knowledge. Seems a pretty risk $34.95 to me. Above are a couple screen shots. Is it what you would have expected?