Indy 500 for the Atari 2600 (1977)
http://darth-azrael.tumblr.com/post/163004244164/kart-mania-indy-500-for-the-atari-2600-1977
Indy 500 was one of the nine original launch titles for the Atari 2600 (or VCS as it was originally called) in 1977. It was based on an earlier eight-player Atari arcade game called Indy 800. It was also one of the many titles that Sears Telegames would released under a different title ("Race" in this case).
Indy 500 was unique in that it was packed with a pair of "racing controllers". These were much like standard paddle controllers with some differences, like the ability to rotate the control an unlimited amount in either direction as opposed to having stops. For those that don't know, paddle controllers were a type of spinner control that was originally used to control the "paddle" in pong type games. Loosely speaking, they could be used in some games where a trackball might be a better choice than a joystick (at least if you only need two dimensional control). They could also work as mini steering wheels but Atari made a couple of minor improvement in the driving controllers to make them more suited to the task.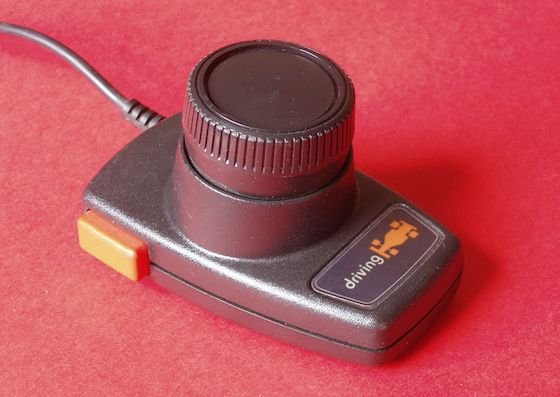 Like most Atari 2600 games, Indy 500 had several variations. These included standard racing, "Crash 'N Score" where you competed with an opponent to crash into a randomly placed white dot, tag (pretty much what it sounds like) and ice racing where the tracks are slippery. Also like most Atari 2600 games this is pretty simplistic stuff. But in 1977, it was pretty amazing to have the ability to have this sort of racing video game in your home.