Temple of Apshai
Temple of Apshai was one of the more important early computer game releases as far as such things go. It was one of the first graphical role-playing games and even predates the commercial releases of the earliest Ultima game (Akalabeth) and the first Wizardry game. It seems that the Temple of Apshai name has faded compared to those others but I suppose that's because the series did not continue as long as either Wizardry or Ultima and was also never ported to any video game systems.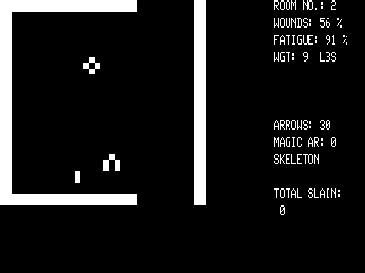 TRS-80
Temple of Apshai is essentially a dungeon crawl heavily influenced by Dungeons and Dragons. The graphics consist of an overhead view along with various statistics. The graphics were pretty sparse but room descriptions were included in the manual.
Temple of Apshai was originally released all the way back in 1979 by Automated Simulations (who would shortly become Epyx) for the TRS-80 and Commodore PET computers but would have many other releases throughout the years. In 1980 a port was released for the Apple II followed by a conversion for Atari 8-bit computers in 1981. In 1982 a version for DOS based PCs was released followed by Commodore 64 and VIC-20 releases in 1983 and it didn't end there. In 1985 the game was remade and re-released as Temple of Apshai Trilogy for the Commodore 64, Atari 8-bit, Apple II, Macintosh and DOS. This improved version also included two previously released expansions, Upper Reaches of Apshai and Curse of Ra. In 1986 this new version was also released for the Amiga and Atari ST. The final release was published in France in 1987 for the Amstrad CPC.