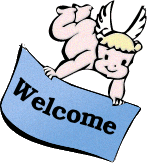 Megalextoria
Retro computing and gaming, sci-fi books, tv and movies and other geeky stuff.


Home
»
Archive
»
net.sf-lovers
»
How to contact Anne MacCaffrey??
Show:

Today's Messages :: Show Polls :: Message Navigator
E-mail to friend
How to contact Anne MacCaffrey?? [message #224691]

Tue, 27 August 1985 18:50

donch
Messages: 5
Registered: May 2013

Karma: 0


Article-I.D.: teklabs.3184
Posted: Tue Aug 27 18:50:40 1985
Date-Received: Thu, 29-Aug-85 22:16:46 EDT
References: <2702@topaz.ARPA> <1622@orca.UUCP> <813@ncoast.UUCP> <436@utastro.UUCP> <154@iitcs.UUCP> <840@ncoast.UUCP>, <156@rtp47.UUCP>
Organization: Tektronix, Beaverton OR
Lines: 9

I want to get in touch with Anne MacCaffrey, best known perhaps for her
delightful Dragon series of novels.

Does anyone in netland know how to go about contacting her or the
author of one's choice?

Also, I received a reply some months ago regarding David Brin that said
he was working on another novel, uplifting gorillas, I believe.  Anyone
know where he stands on that piece or any other stories?

Re: How to contact Anne MacCaffrey?? [message #224732 is a reply to message #224691]

Wed, 15 January 2014 11:16

crm
Messages: 64
Registered: May 2013

Karma: 0


Article-I.D.: duke.6198
Posted: Wed Dec 31 18:59:59 1969
Date-Received: Sat, 31-Aug-85 16:25:11 EDT
References: <2702@topaz.ARPA> <1622@orca.UUCP> <813@ncoast.UUCP> <436@utastro.UUCP> <154@iitcs.UUCP> <840@ncoast.UUCP> <156@rtp47.UUCP> <3184@teklabs.UUCP>
Reply-To: crm@duke.UUCP (Charlie Martin)
Organization: Duke University
Lines: 18
Summary: 

In article <3184@teklabs.UUCP> donch@teklabs.UUCP (Don Chitwood) writes:
>
>Does anyone in netland know how to go about contacting her or the
>author of one's choice?
>
I gues I am doomed, DOOMED you hear me, *doomed*! to post this every couple
of months....  You can get whatever address is best used to write to an
author by going to (or calling) your reference librarian.  There is a 
wonderful book which she will have (haven't met any male ones yet, perhaps
there is a sex-linked characteristic for knowing everything and smilingly
litening to dumb questions) which can give you what you need.  Sometimes
it is just the agent's address, but often it is the author's real live home
address.

-- 

			Charlie Martin
			(...mcnc!duke!crm)

Goto Forum:
[
Syndicate this forum (XML)
] [

] [
]
Current Time: Mon Jun 21 21:14:41 EDT 2021
Total time taken to generate the page: 0.03201 seconds