Advertisement for SwordQuest EarthWorld, FireWorld, WaterWorld, AirWorld for the Atari 2600 from the January 1983 issue of Video Games magazine.
via Retro Gaming / Advertisement for SwordQuest
The SwordQuest games were meant to be a series of four action/adventure games (among the first of their kind) produced by Atari for the Atari 2600. Each game was meant to be a contest with the winner receiving a prize worth $25,000 (at the time). The solution to each game was part of a larger puzzle that when solved would have resulted in a larger grand prize. Unfortunately, due to the video game crash of 1983 and Atari's subsequent financial difficulties, the series was never completed.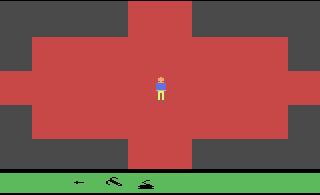 SwordQuest: EarthWorld
The first game, SwordQuest: EarthWorld was released in 1982 and was originally intended as a sequel to Adventure. It resulted in 5,000 entries into the competition with only eight people managing to find all five of the correct clues. The ultimate grand prize winner won the "Talisman of Penultimate Truth" which was made of 18K gold with 12 diamonds and birthstones of the twelve Zodiac signs embedded in it. There was also a sword made of white gold attached. Alas, the winner