Musya – The Classic Japanese Tale of Horror (SNES) review from DieHard GameFan magazine (Volume 1; Issue 5 – 1993).
https://darth-azrael.tumblr.com/post/189451321341/daftpunkyoshi-musya-the-classic-japanese-tale
Musya is a side scrolling action/horror game that made its way to the Super Nintendo in the U.S. in 1992. The plot is a fairly typical save the princess from an evil power type of thing. Apparently, she was keeping a talisman safe that kept "The Evil One" locked away in an abyss. Apparently, she couldn't keep herself safe though…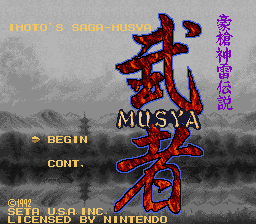 Game play is also fairly typical of 2D side-scrolling action games of the time. You must fight various enemies through multiple levels. You have a couple of attacks you can do with your spear and also five different spells that you can use which can be replenished by finding certain items.