Paperboy (Commodore 64, Atari 800, Atari ST) and Gauntlet (Commodore 64, Atari 800, Atari ST)
http://darth-azrael.tumblr.com/post/171784835565/retrocgads-usa-1988-paperboy-commodore-64
This 1988 ad is for the initial computer ports of Gauntlet and Paperboy which were done by Mindscape.
Gauntlet started life as an arcade game developed by Atari and released in 1985. It was inspired by Dungeons and Dragons and an older Atari computer game called Dandy. Up to four players could take the role of a Wizard (Merlin), a Warrior (Thor), a Valkyrie (Thyra) or an Elf (Questor), each with different strengths and weaknesses. The game is played from a top down point of view and the goal is to make it to an exit at the end of a maze that will take you to the next level. Along the way you must battle ghosts, grunts, demons, wizards and thieves among other enemies. You also must find food to regain energy and may also collect treasure and other special items.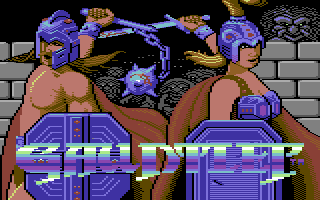 This particular ad mentions the Atari 800, Commodore 64 and Atari ST. I can only assume that these must have been the first ports released because Gauntlet was ultimately available on a wider variety of platforms including the Apple II, Macintosh, Apple IIGS, and others. It was later also released for the NES, Sega Genesis and Sega Master System. I played the arcade version some but it was the Commodore 64 version I played the most and I always thought it was a very good conversion.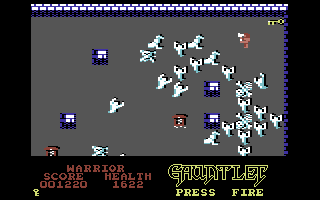 Gauntlet: The Deeper Dungeons, a 512 level expansion that required the original game, was also released for the Atari ST and Commodore 64. Gauntlet was also released in emulated form as part of Midway Arcade Treasures released in 2003 for a number of platforms. I highly recommend the Commodore 64 version but the Midway Arcade treasures version is more convenient and will give you a closer to the arcade experience.
Paperboy was also originally an Atari arcade game and was released in 1985. This game is played from an overhead and slightly isometric point of view. You take the role of a paperboy delivering newspapers from your bike. The goal is to throw the papers accurately and avoid missing a delivery to subscribers or damaging their house (e.g. by accidentally throwing a paper through the window). You will face various obstacles along the way (dogs, etc.) and you must avoid crashing.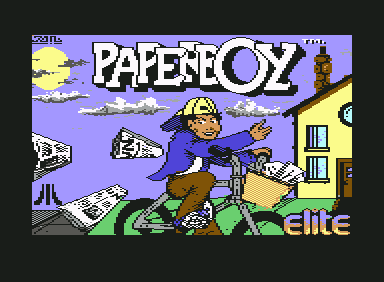 While this particular ad only mentions (in small print) the Commodore 64, Atari 800, and Atari ST versions, this game was ported to just about every late 1980s and early 1990s platform you can think of. Again, I mostly (I think exclusively in this case) played the Commodore 64 version. That particular version got mixed reviews but I always though it was fun if a bit repetitive after a while. The controls are a bit awkward but are ok once you get used to them. This game also appeared as part of Midway Arcade Treasures. Interestingly, the NES version of this game was the first NES game developed in the U.S.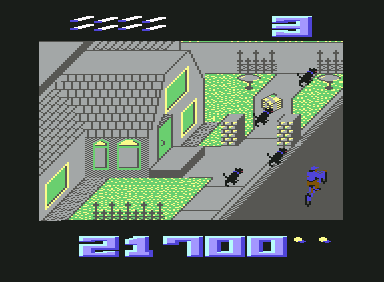 Screen shots above are from the Commodore 64 version of the games.