USA 1994  Seibu Kaihatsu Inc.
https://darth-azrael.tumblr.com/post/183328080554/retrocgads-usa-1994-seibu-kaihatsu-inc
Raiden is a vertical scrolling shooter that was originally released in arcades in 1990. It was created by Seibu Kaihatsu and distributed by Fabtek in North America. The plot of the game is basically to save the Earth from an alien invasion. You can play alone or cooperatively with another player. The game was successful enough to spawn a number of ports and sequels.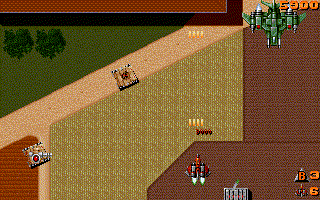 The ad above from 1994 features the PC (DOS) and Amiga versions of the game. These would have been the last of the widely available original ports. However, while the DOS version was in fact released in 1994, the Amiga version was never completed.
The first port, and probably the one most faithful to the arcade original was the TurboGrafx-16 version released in 1991. A couple of years later in 1993 an Atari Jaguar port was released. This version featured several changes from the arcade original. Not necessarily bad, but different. The DOS version was closest to the Jaguar version. A partially completed Amiga version does exist as well. Interestingly, the last release was not until 1997 when a version was released for the Atari Lynx. This was well after the commercial life for the Lynx was over and it was primarily available via mail order.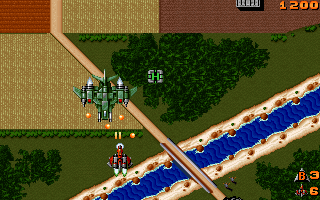 Of course, you can always emulate the original arcade version via MAME but there is no shortage of home ports either. The original arcade is still the best and the TurboGrafx-16 will probably give you the console experience that is closest to the arcade. In any case, vertical shooter fans should give this one a try in one form or another.
Screen shots above are from the DOS version of the game.