Article on Ghostbusters for the Commodore 64 from the January 1985 issue of Ahoy!
Source: Ahoy! – Issue Number 13 – January 1985
Ghostbusters was one of the games I played a lot of on the Commodore 64. It was the first movie license that Activision ever did and one of the relative few movie licenses that have made for a good game. Ghostbusters was initially written by David Crane for the Commodore 64 and Atari 800 in 1984. Amazingly, it was completed in only six weeks and most of it before he had ever seen the movie. To be fair, some of the initial code was based on a previous game that was never completed. Ghostbusters was later ported to a number of other platforms including the Apple II, Sega Master System, Atari 2600 and NES.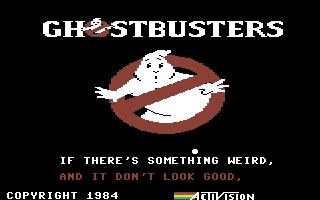 All ports of the game are mostly the same with the Commodore 64 version being, in my opinion, the best and the NES version being the worst. As far as console por